The crypto market has developed massively since 2017 and 2018, with the introduction of complex derivatives products, regulation, and liquidity through prominent market makers like Jump Trading and Alameda.But the market is far from perfect: just recently, the price of Ethereum dropped under $500 on a leading futures exchange while ETH traded at $600 in the rest of this market.How Ethereum wicked under $500 while the rest of the market traded at $600After peaking around $620 on Monday, Ethereum began to slump lower on Tuesday evening.Altcoins became heavy as Bitcoin stole the show, moving close to $20,000 for the first time since the previous all-time high in 2017. ETH dropped from those $620 highs to around $590 by Tuesday evening.While there were no signs of a strong incoming dump, some traders were quick to take the drawback as a sign of worst things to come.Trader "Hsaka" noted that within a few minutes, seemingly one entity sold $30 million worth of Ethereum via ByBit, a leading futures exchange. The issue was that the user used a "market order" to sell that amount, meaning that his sales automatically matched bids on the books at any price.The market couldn't handle this much selling pressure, resulting in a wick to $485 from just around $600.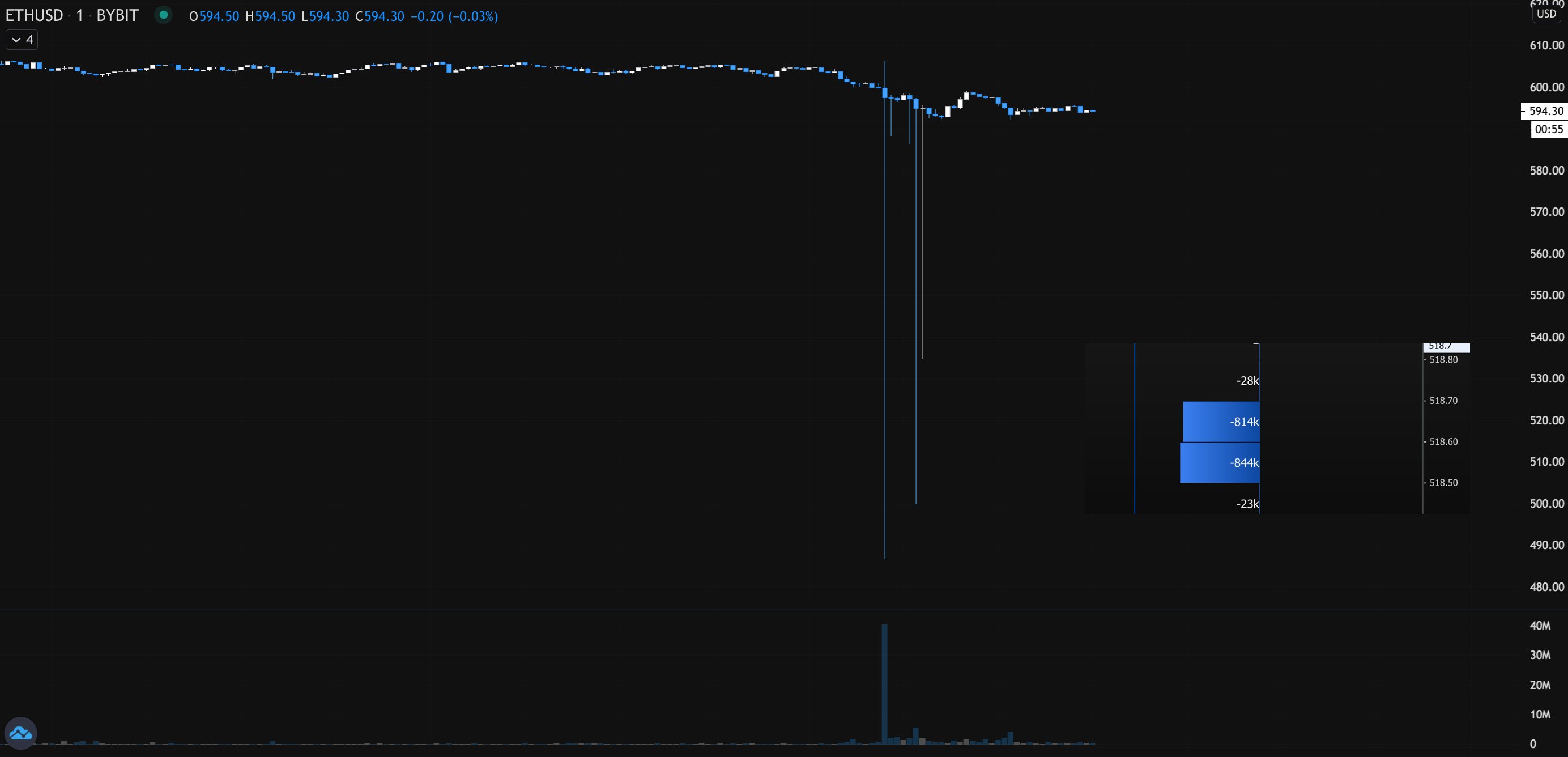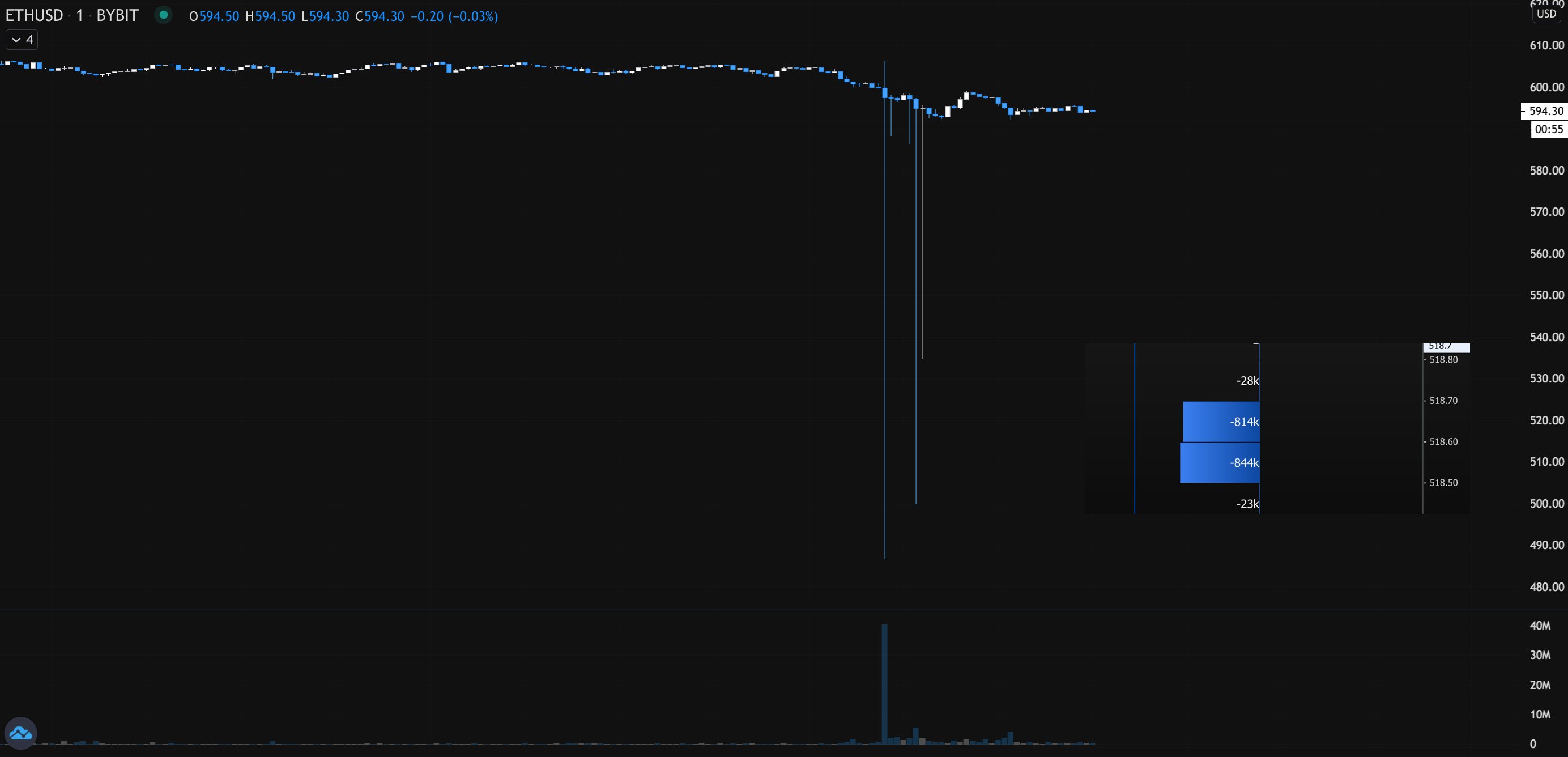 Chart of ETH's price action during flash dump from "Hsaka". Source: ETHUSD from TradingView.com

It is unclear who sold the coins and why they sold so quickly.Of note, there were some that benefited from the move, with Hsaka specifically noting that one trader got filled for $1.5 million worth of Ethereum at $518. That user, once the market bounced back, was immediately up by 14 percent (times the amount of leverage he took).The chief executive of ByBit is trying to rectify the users adversely affected by the incident. He wrote today:
"Bybit had two major wicks on ETH, if any clients stop loss, conditional or limit order was triggered and executed on the off market price, please contact our support and we will examine and reimburse. (Please be patient on our live support as they are quite overloaded now)"
This is far from the first time this has happened within the cryptocurrency space: some pairs on Kraken (BTC/CAD) and Coinbase famously wicked down to $0.01 or the $1 range in the past due to market manipulation or large fat-fingered sales.ETH's outlookWhile it appears that this wick took place as a result of someone looking to secure their Ethereum profits, many are confident that the coin is ready to move higher.For one, ETH2 was recently confirmed to be taking place on Dec. 1 as 524,000 ETH was sent to the validator contract.Many expect this upgrade to end up giving Ethereum a natural price floor due to the natural interest that users will get from joining the ETH2 network as a validator. The upgrade is also expected to boost the usability of the network, which should increase the utility of ETH.