Bitcoin has undergone a strong surge over the past two months that has brought it from the $11,000-12,000 range to new all-time highs just shy of $20,000. The strength of the rally is almost on par with the rally at the end of 2017.According to market data, this more than 65 percent rally has almost been solely driven by one group of investors: institutions.What drove Bitcoin from $12,000 to $20,000?Over the past few months, traders have noticed something different about this rally compared to previous ones.Where previous rallies were marked by strong surges in the futures market, as made evident by high funding rates and high open interest, this one has been relatively muted. As one analyst who shared the chart below pointed out:
"Price almost doubled since summer peak but OI (open interest) is at the same levels now, both USD & BTC collateral markets."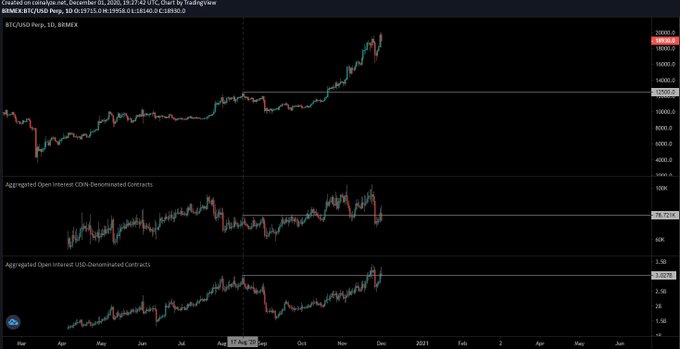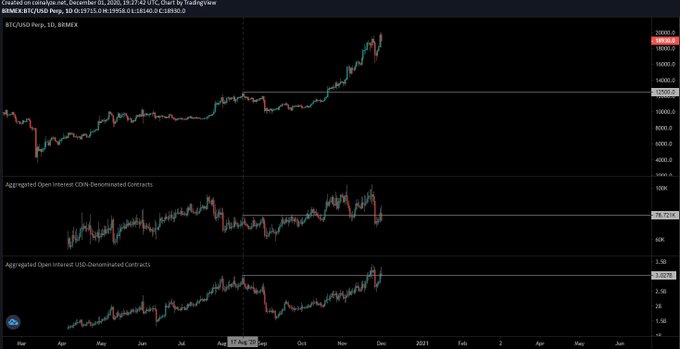 Chart of BTC's price action since February with futures market data shared by "Edward Morra". Chart from TradingView

In previous bull markets, rallies were marked by strong increases in open interest and in funding rates, signifying that there were many traders taking long positions. This meant that often, the rally was led by derivatives, whereby the spot market would follow futures markets.This current rally, as the chart above suggests, has been driven by spot buyers. Spot buyers usually buy Bitcoin for the long term as opposed to short-term flips.Institutional FOMOThis is far from conjecture: there are clear signs indicating that there were institutional players involved in the recent rally.Ari Paul, CIO of BlockTower Capital, recently commented on the rally:
"For most of this rally, we've seen a clear pattern of algorithmic style buying during US hours and flat activity during asia hours. Those are largely HNWs (high net worth individuals) buying large amounts facilitated by algos (or via an OTC desk that uses algos).
While it took a bit longer than many of us expected, the trend of hedge fund managers like Paul Tudor Jones accumulating BTC both personally and for their hedge funds has been accelerating."
Further, there are many billionaires and otherwise prominent Wall Street figures that have pledged their support for Bitcoin over recent weeks.These include but are not limited to Paul Tudor Jones, Stanley Druckenmiller, and a CIO at BlackRock Rick Rieder, who has over $1.6 trillion in assets under his purview.Growing retail effect on BitcoinThe tides have begun to shift, at least on an intra-week basis.As reported by CryptoSlate previously, the funding rate on BitMEX recently underwent a strong spike to multi-month highs. Analyst Tyler D. Coates noted:
"The daily funding rate on bitmex is a major concern, & it is a signal that weak hands are buying what strong hands are selling. The last funding spike occurred on 11/24."
This suggests an increase in retail investors speculatively longing Bitcoin into the $20,000 resistance, which has already triggered a drawdown, as seen on Tuesday evening.