Bitcoin has faced a steep correction since Wednesday's highs of $19,600, the highest the cryptocurrency has traded since the late 2017 highs. The coin currently trades for $17,200, though fell as low as $16,300 on some exchanges early Thursday morning.
Chart of BTC's price action over the past few days. Source: BTCUSD from TradingView

This correction wasn't entirely unpredictable: as reported by CryptoSlate previously, the same trader that predicted bitcoin would move above $18,000 in the first place began building a short position.The trader noted that BTC was falling below key parabolic uptrend supports, which in the cryptocurrency market, often means that the market will sustain a strong correction.Also, there were signs that the market was getting quite ahead of itself in terms of sentiment.Alex Fiskum, an associate at Alice Capital, shared the chart seen below the other day. The chart shows that the positioning and the sentiment of traders in the Bitcoin market. As Fiskum shows, the market then looked extremely similar to how it did during the 2019 highs and just before the 2017 all-time highs.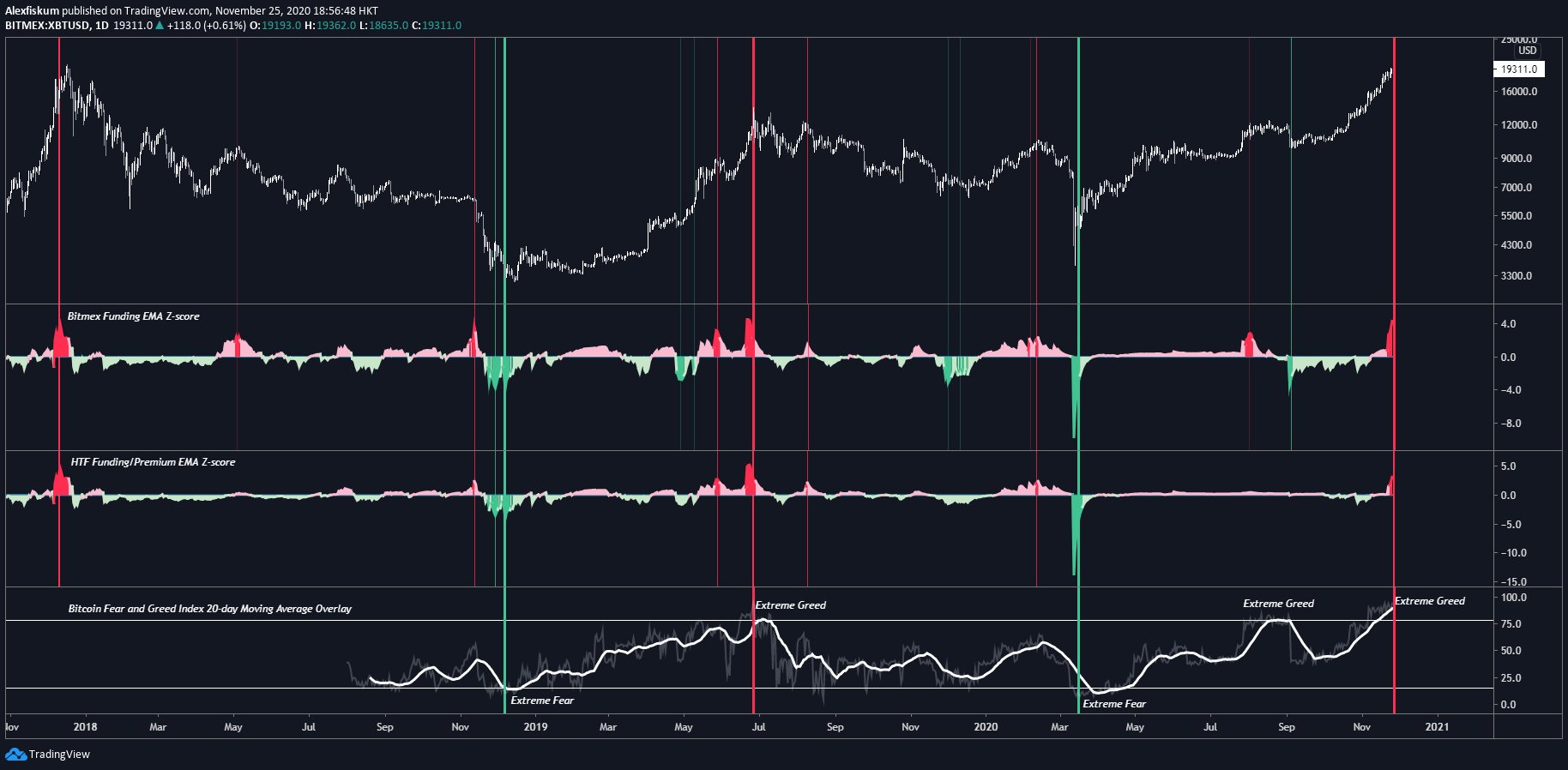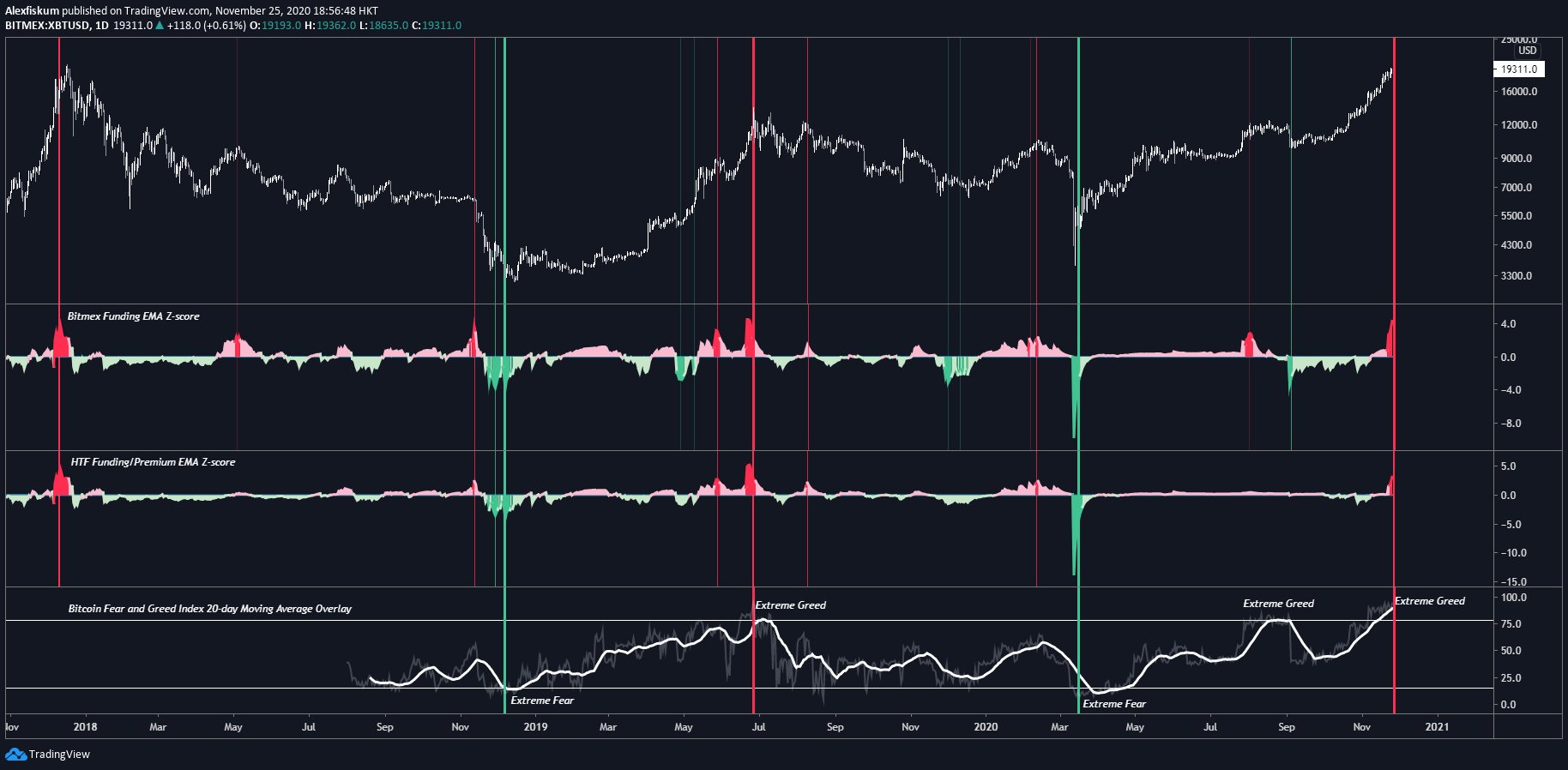 Bitcoin price and positioning analysis by Alex Fiskum. Source; BTCUSD from TradingView

Still, despite the correction and the market showing no signs that it will fully reverse, bulls remain convinced of the longer-term Bitcoin bull case.Investors still bullish on Bitcoin despite the price dropMany investors remain bullish on the leading cryptocurrency despite the strong $2,500+ drop.Robert Kiyosaki, the prominent entrepreneur behind the book "Rich Dad Poor Dad," commented that there are "great times ahead for" scarce assets such as Bitcoin and gold.
"Bitcoin going to the moon. Great news. Gold and silver going down. Even better news. Buying opportunity especially silver. If gold hits $1750 and silver $19.00 back up the truck. Be aware. Great times ahead for gold , silver and Bitcoin. Take care."
Kiyosaki believes that the mass amount of money printing taking place due to the pandemic will cause a widespread devaluation of fiat money, driving BTC and other non-inflatable assets much higher than they are now.It's important to highlight that strong corrections are par for the course in bull markets.Bob Loukas, a long-time Bitcoin investor known for predicting the coin's macro cycles, wrote the following on Twitter after the drop:
"Most have a short memory. Remember in Jan 2017 just shy of #Bitcoin ATH's, boom 34% decline. The 2 months later a sharp rally, new ATH's, and double boom 34% decline. Never a one way street."
Antoni Trenchev, a managing partner and co-founder of Nexo, made a similar comment to CNBC.Trenchev noted that "any healthy market needs to have pullbacks and periods of consolidation" prior to further rallies.It is unclear when BTC's sell-off will abate in the near future. But assuming crypto remains crypto, a strong rally that will surpass the recent one may follow once the market finally stabilizes.