Ethereum has faced a strong correction over the past few days as Bitcoin has slipped lower.As of this article's writing, ETH trades for $370, around 7.5 percent below the $400 highs set just 36 hours ago. The cryptocurrency had trouble passing the key $400 resistance despite Bitcoin pushing to new year-to-date highs at $14,100 on the weekend.ETH's sell-off has been marked by a series of rapid sell-offs, indicating there may be a contingent of Ethereum investors that are bearish on the asset in the short term and thus are looking to liquidate their coins as fast as possible.Ethereum sell-off marked by rapid selling pressure from big investorsAs noted by the crypto-asset analyst "CL," Ethereum's drop on Monday started with a rapid sell-off on Binance's futures market.Per his data, the coin fell by $15 — or approximately four percent — in the span of a single second. CL alleges that the drop was predicated on cascading "trigger orders" on Binance's futures, suggesting that there whales or large traders that didn't expect the coin to go much lower.While the move was initially bought up, with Ethereum recovering $13 out of the $15 drop, the cryptocurrency continued to move lower after that rapid sell-off.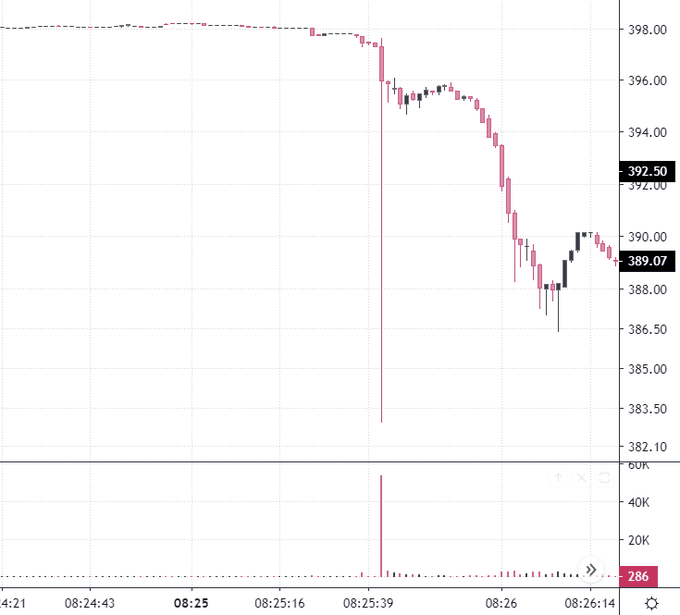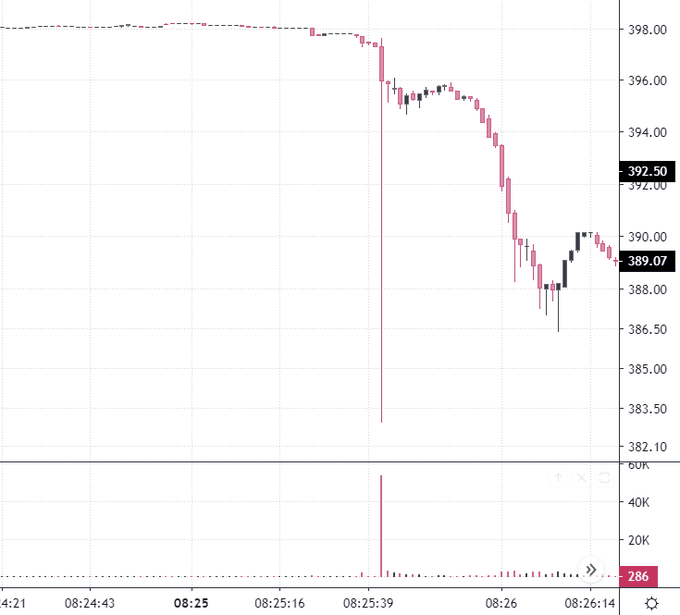 Chart of ETH's price action on a one-second scale on Monday evening by crypto trader CL (@Cl207 on Twitter). Source: ETHUSD from Tradingview.com

There was also spot market pressure that drove ETH lower.Crypto-asset analytics and data firm Coin Metrics reported shortly after Ethereum's correction that users had deposited 4,000 ETH into Binance twenty minutes before the downturn began. 4,000 ETH is worth around $1.5 million as of this article's writing.
?4,000 ETH was deposited into @binance 20 minutes before the recent market downturn pic.twitter.com/NKjydgSDSP
— CoinMetrics.io (@coinmetrics) November 2, 2020
The same chart from Coin Metrics also shows that there was thousands of ETH sent to Binance hours prior to the drop, along with thousands of ETH sent to exchanges such as Kraken after the first part of the drop.More room to fall for ETHAnalysts fear that ETH has more room to move lower after falling to $370.Su Zhu, CIO and CEO of Three Arrows Capital, half-joked on Nov. 2 that a valid "yield farming" strategy would be to supply Wrapped Bitcoin to Compound, borrow ETH, sell that ETH for Wrapped Bitcoin, then repeat. This would create a leveraged short position on Ethereum against Bitcoin and would farm COMP simultaneously.
"Vault idea: supply wBTC to Compound, borrow ETH and sell on uniswap to wBTC, re-supply wBTC. farm COMP + earn permanent gains from ethbtc and re-stack yield."
Others have echoed this sentiment, noting how the macroeconomic narrative is much clearer for Bitcoin than Ethereum at the moment.